How It Works
Welcome to the completely secure platform for buyers and sellers of diamonds, jewelry & watches.
Buying at Louped
Our Marketplace is a completely secure platform of diamonds, jewelry and watches where you can shop the largest secondhand diamond inventory with values up to 80% off retail.
Browse
Browse through the largest sustainable marketplace of diamonds, jewelry, and watches where you can find hidden gems valued up to 80% off retail.
Purchase
Found something you love? Simply, add the item to your cart. You can continue shopping or proceed to checkout. By proceeding to checkout, you will be directly connected to our secure payment page.

Secure Payment
Your payment will be held in escrow by Louped until the item is received and authenticated by our team of expert gemologists. (The seller has seven business days to send the item to our headquarters.)
Free Appraisal
Our team of gemologists will meticulously inspect each item to verify its authenticity and provide a gemological certificate, which also serves as an insurance appraisal - all free of charge.
Selling at Louped
As the largest jewelry buyer from the public, we offer 2 distinct options that enable us to give you maximum value for your items.

Create Account
Registering to list an item on our Marketplace is FREE. All you need to do is create an account.
List Your Item
Listing your item is simple. Take a photo of the item you want to sell with your iPhone or Android device, list the details, set the price, and you're done! Not sure what price to list your item or want a Direct Offer on it? No problem! Once you submit your listing, one of our experts will email you a Direct Offer for immediate sale, as well as a suggested listing price for your item(s). Sellers have the option to choose between the Direct Offer, Marketplace Listing, or a combination of both.

Check Your E-Mail for Offers
Remember to regularly check your e-mail for offers or questions from prospective buyers.
Receive Payment
As soon as your item(s) has sold on our Marketplace, you will receive an email confirmation. You will have seven days to send in your item for authentication. Once authenticated, all payments are sent via check.
Louped Commission Structure
20%
Item Sale Price Between
$500 - $5,000
18%
Item Sale Price Between
$5,001 - $10,000
15%
Item Sale Price Between
$10,001 - $50,000
10%
Item Sale Price Between
$50,000 +
25%
VIP Services
Commissions
VIP Buyer
We are a full service jewelry concierge.
Our extensive wholesale network allows us to find what you are looking for at well below retail.
We go above and beyond to provide personalized attention and convenience.
Our entire process from start to finish is a completely stress free.
VIP Seller
Not to worry, we do it all. Our VIP sales team will provide free insured shipping, photography, cleaning your item, listing your item and managing all inquiries on our Marketplace — all at no additional cost. All concierge listings on the Marketplace are highlighted with a "crown" icon, which let our buyers know your item has already been authenticated. On average, our concierge listings sell twice as fast and our Marketplace is able to get you more value on your item than any other site.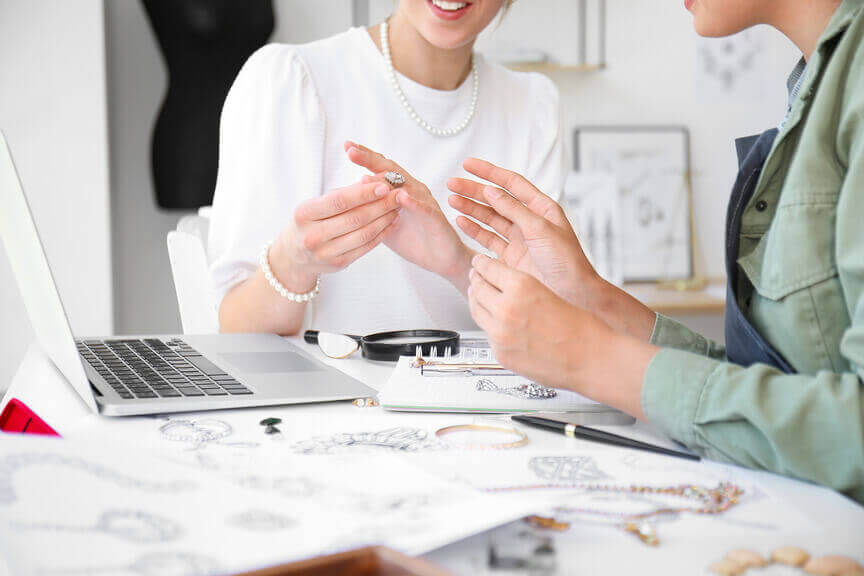 Why Choose Us?
| | Louped | The Realreal | True Facet | Traditional Auction Houses |
| --- | --- | --- | --- | --- |
| How Long Does It Take for My Item to Sell | Direct Offer: Immediate – Louped Marketplace: 1-2 weeks on average | Typically takes 10-15 days just to have your item listed. This time doesn't include the sale of your item. | True Facet requires that you allow them 180 days to sell your item | Typically 3-4 month average |
| Accepted Items or Eligible Items | All types of jewelry, diamonds, watches | Contemp. signed pieces only and items < 10 years old. | Mainly branded/signed pieces | Typically very high end pieces only |
| Options | Direct Offer and Marketplace | Marketplace only | Marketplace only | Auction Only |
| Third Party Appraisal | Included with Purchase | | | |
| Who Determines Price? | Direct Offer (Us) – Marketplace- Seller (You) | The RealReal | True Facet | Auction House |
| Commission Fee | 10-20% | 30-45% | 25% | 25-35% |
| Direct Offer Option | | | | |
Unprecedented Value
Registration Is Free
There is no charge for creating an account on Louped. Buyers pay 2.5% commission on the agreed upon purchase price.
Far Below Retail
Typically buyers save between 40% to 70% off retail prices.
We Ship Fully Insured
Louped ships to buyers by UPS Standard Two-Day Service. That means there are no deliveries on Saturday or Sunday or to P.O. Boxes.
Not Fully Satisfied?
We guarantee the authencity of all merchandise bought and sold on our site. If you are not satsified with your purchase, Louped will buy back the item based on the following criteria:
You return the item to Louped within seven days of receipt.
Our team of gemologists confirms that the item is the same piece that was originally sent and in identical condition.
Once the above criteria is met, Louped will issue a one time site credit, valid for 30 days. This will be calculated as the purchase of $1000 will give you a $850 credit.
No matter who you are, buyer or seller, we're here to help.