Emerging Entrepreneur: Joshua Opperman
Photo (C) Andrew Rowat
Josh Opperman
Happily Ever After
I Do Now I Don't spins breakups into solid gold
It was 2006, and things looked pretty good for Joshua Opperman. He was a market researcher for a New York City-based magazine publisher. He was engaged to be married. Things were on track. All was well.
But three months into the engagement, his fianc?e took off, leaving nothing but the ring behind. Adding insult to injury? The store where Opperman had purchased the $10,000 bauble didn't give refunds, only credit. As he started researching other ways to unload it, Opperman found that he could recoup, at most, 35 percent of the purchase price--if he didn't get scammed.
"I was going to different places that bought jewelry online. I was finding that it wasn't really a safe environment to sell a piece like this back," he says. "That got me thinking, Is there a better way to do this?"
Opperman and his sister, Mara, tossed the idea around, and in 2007, just six months after his breakup, the first-time entrepreneurs launched I Do Now I Don't, an online marketplace for engagement rings. "We did it for fun to see if we could get traction on it," says Opperman, who serves as CEO. "We put up a little dinky site. We put in a few thousand dollars."
Three weeks later, with just five rings listed on the site, the media blitz began. Turned out that having a bad breakup story at the heart of the company was good news for I Do Now I Don't. Opperman's first TV appearance was on The Rachael Ray Show; soon after, his company was featured on the homepage of CNN.com.
"It was great, but it wasn't that great for us at the time. We weren't ready for it," he says. "[Our] site was down, so nobody could see it. It was crashed for weeks."
Those early dinky days had to come to an end. The siblings raised $450,000 from friends and family--their only funding--and launched a new site. Within six months of starting the company, they quit their other jobs.
I Do Now I Don't plays the role of safe go-between for sellers looking to unload engagement rings (and, now, other jewelry as well as wedding dresses) and those hoping to get the glitz without paying retail prices. When a transaction is initiated, I Do Now I Don't holds the cash until a gemologist certifies the ring, a system that is clearly calming buyers' nerves: The company sends about 100 rings to happier homes each month, including one that went for $100,000.
"I think the only reason somebody would spend $100,000 is that they're sure we're checking the ring, holding the money, and they're not going to be scammed," Opperman says.
In 2012 the business--which takes a 15 percent commission on each sale--brought in $1.6 million. Opperman estimated 2013 revenue of $2.5 million to $3 million. "I think we can make this a $100 million company," he says.
Up next: Opperman is close to signing contracts with two or three jewelry retailers ("names you would know," he says) to create trade-in programs at their stores. I Do Now I Don't will buy the old goods and give customers a credit toward the purchase of new ones at the retailer.
And, no need to worry: Opperman isn't sitting around miserable in the midst of all those engagement rings. He did find love again--and the ring he gave her, purchased on his own site, was the perfect fit.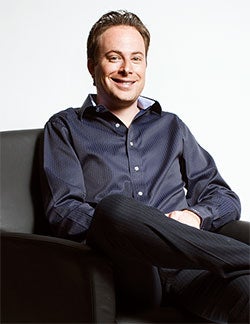 What is your motto?
"Success is to be measured not so much by the position that one has reached in life as by the obstacles which he has overcome while trying to succeed." --Booker T. Washington
"Success is to be measured not so much by the position that one has reached in life as by the obstacles which he has overcome while trying to succeed." --Booker T. Washington
Usually I like to make it up as I go. Sometimes lists can be too constrictive. Things are constantly changing, and flexibility is important.
How do you reward those who have helped you grow your business?
The people who have helped grow this business with me are all a part of the company in one form or another.
Which fictional character are you most like, and why?
Jerry Maguire. He was at the top of his game before getting fired for developing morals. He lost almost everything, and instead of giving up, he started his own business managing just one athlete. He stuck with his convictions and his passion, sometimes struggling, but in the end he reestablished himself while gaining respect from the industry.